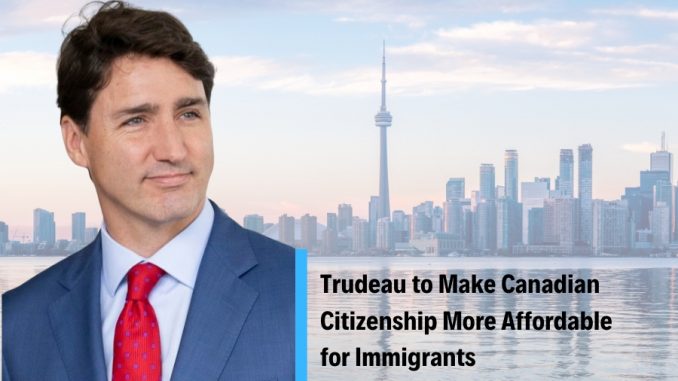 The Canadian government has committed to waiving the citizenship application fees, which has become a significant barrier that prevents newcomers from becoming Canadian citizens. Currently, adults are asked to pay a $530 processing fee per application and a $100 right-of-citizenship fee. In addition, families are required to pay an additional $100 for every applicant under 18. The cost would be $1,460 for a family of four applying for citizenship.
Prime Minister Justin Trudeau has presented Immigration Minister Marco Mendicino a request to submit a plan to eliminate the fees. The cost is not affordable to low-income families, according to Amy Casipullai, the senior coordinator with the Ontario Council of Agencies Serving Immigrants. Her group stands as an advocate for refugees and immigrants, and she added that when immigrants become citizens, it helps them feel more settled and connected with Canada. She said the rate of citizenship acquisition has been on the decline and that is concerning.
Canadian Visa Professionals (CanadianVP) has an experienced team ready to walk you through the steps of immigration so you and your family can begin your life in Canada. Canada has become one of the most desired places to relocate to in the world.
"The government should take an action"
Statistics Canada said the rate of immigrants who became citizens after living in the country for six years decreased to 55.4 percent in 2016 from 70.2 percent ten years earlier. Coming from Syria to Canada, Ayham Alkhattab has been eligible to apply for citizenship for three months, but is waiting on the removal of the fee to do so. He lives and works in Montreal and only makes $12.50 per hour. He wants to apply for Canadian citizenship, but will have to wait a bit, he said. He agrees the government should consider the fact that some prospective citizens have low incomes and have a hard time making ends meet.
If you want to apply for a visa to live and work in Canada, contact Canadian Visa Professionals. Their team of experts will help you apply.