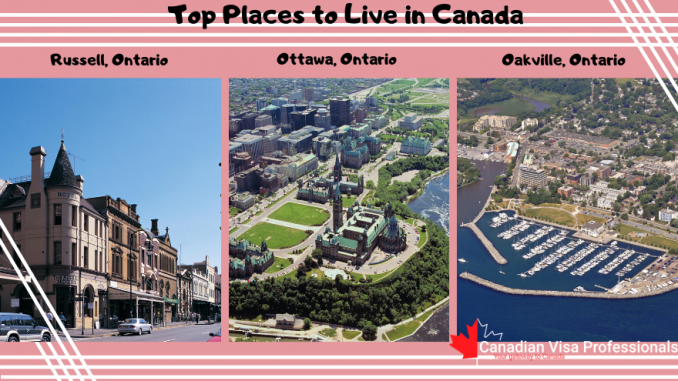 MoneySense posted an article about the top places to live in Canada in 2018. Ontario proudly owned the top three spots on the list. The number one place to live in Canada in 2018 is Oakville, Ontario. The town is located in southern Ontario between Toronto and Hamilton. Oakville has a younger population than Canada as a whole. For instance, 28.1 percent of the population consists of youth under 19 years of age. The city has a population of 209,039 and the average household income is $161,540 per year. Immigration is a great way for families and young people to receive the best options for life. Canada is one of the most desirable migration locations across the globe. Canadian Visa Professionals will walk you through the steps of immigration and applying for the required visa to live and work in Canada. Contact them today!

The second-ranked city to live in Canada for 2018 is Ottawa, Ontario. Ottawa is the capital city of Canada and it sits on the south bank of the Ottawa River. In 2016, the city's population was close to 935,000 and it had a metro population of 1,323,783. It is the fourth-largest city in Canada and the fifth-largest census metropolitan area. The region is the political center of Canada and also has the most educated population of all Canadian cities. Ottawa has a humid continental climate and boasts of four distinct seasons. Canadian Visa Professionals has a goal to help you achieve a favorable outcome when applying for a Canadian visa. Their personal approach and vast experience make them the perfect choice when applying for the required visa to live and work in Canada.

Russell, Ontario, is the third-ranked city in Canada in which to live during 2018. The municipal township is situated south-east of Ottawa in eastern Ontario. The population of Russell in the 2016 Canadian Census was 16,520. Even though the predominant language spoken is English, there is a significant French-speaking minority in the city. The various parts of the township have different distributions of language. To make sure your application is going to the immigration authorities in Canada complete and in the correct order, contact Canadian Visa Professionals. They will walk you through every step to receive the visa needed to live and work in Canada.